The Ultimate Vermont Leaf Peeping Itinerary
When I imagined the Vermont of my dreams it consisted of maple all the things, crisp autumn weather, and the most incredible fall foliage on Earth. My expectations were high, which is risky when visiting a new place, but I'm pleased to say Vermont exceeded them.
I don't know of another spot with undulating mountain after mountain exploding in fiery reds, oranges, and yellows that rival the best sunset skies. Fall in Vermont is one of those things that you've got to see to believe.
So if you're lucky enough to find yourself there during autumn, here are all the wonderful ways to fill your leaf peeping itinerary:
Where to Base Yourself and When to Go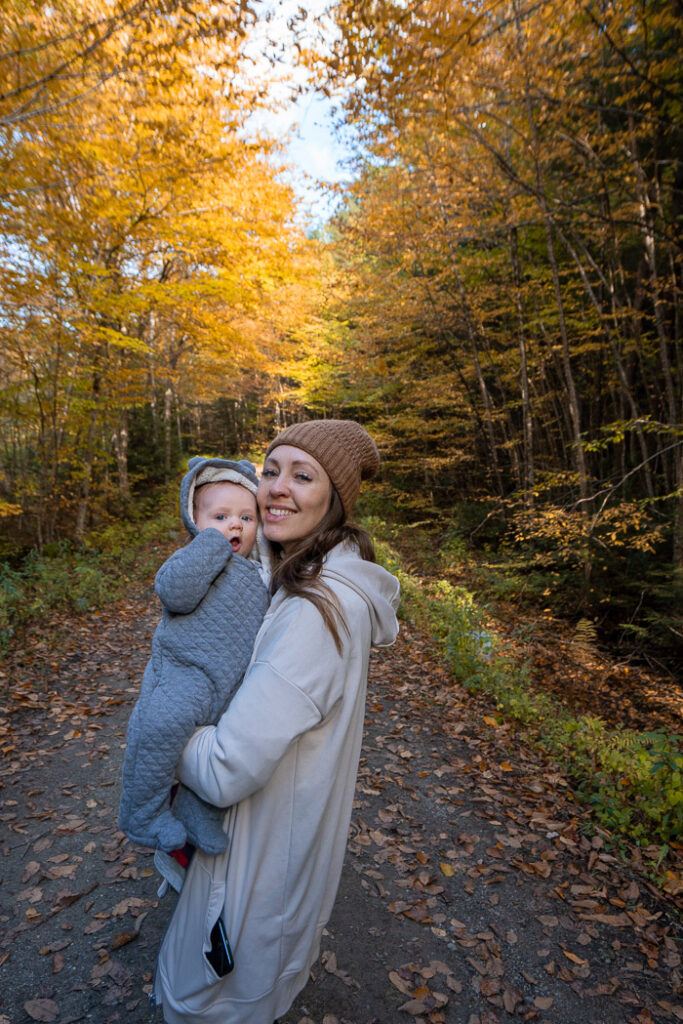 This itinerary is based in the Burlington area where you'll find a convenient airport, plenty of delicious restaurants and places to stay, and in my opinion the best leaf peeping in the state, particularly if you hit it at the peak which is often around the first week of October.
Keep in mind the peak can change year to year, and it's usually a short window of time. That said, the first couple weeks of October are often a good bet, and if you're not seeing much foliage in Burlington, head higher in elevation.
Ben & Jerry's Ice Cream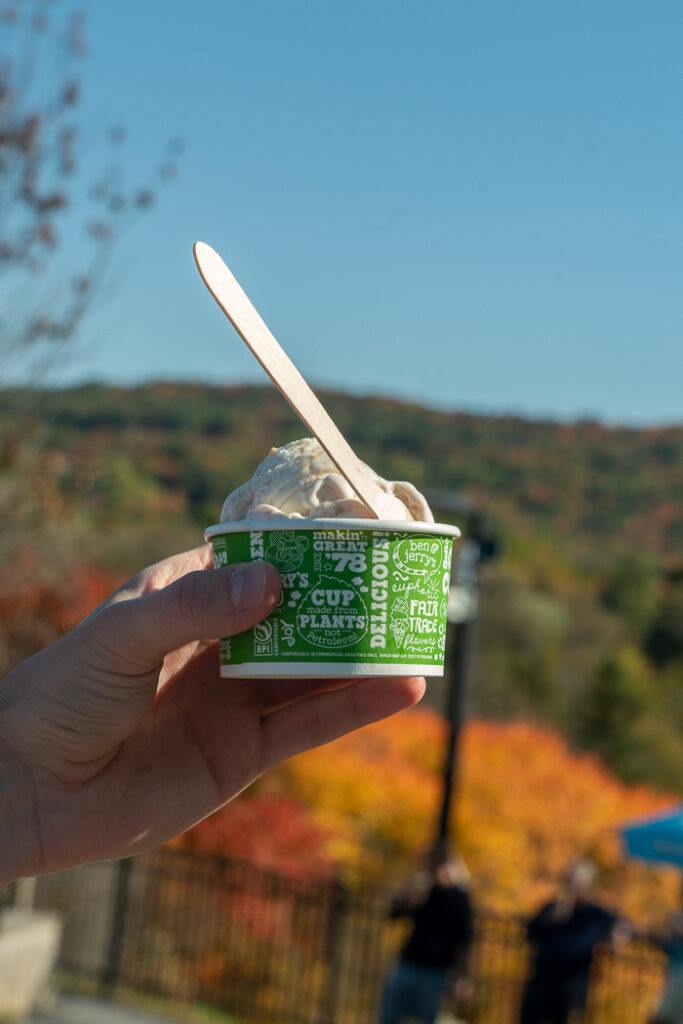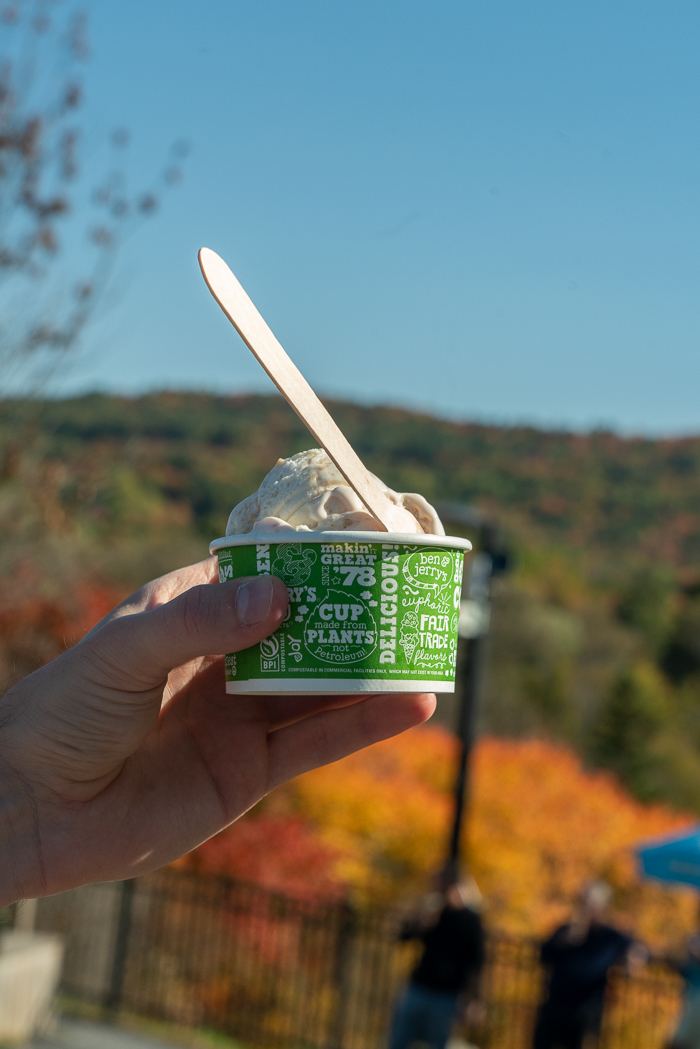 Who didn't grow up eating Ben & Jerry's? Whether Half Baked, Phish Food, or Cherry Garcia, I'll own up to eating my own body weight in Ben & Jerry's over my lifetime, which is why I had to go to the source when in the motherland.
We went for the strawberry cheesecake and cookie dough this time, and though I didn't do a factory tour, it's an option while you're there to see how the creamy goodness is made (book here). I opted to enjoy the outside, watch people take pictures with the painted cow, and check out the flavor graveyard. RIP Schweddy Balls flavor.
Stowe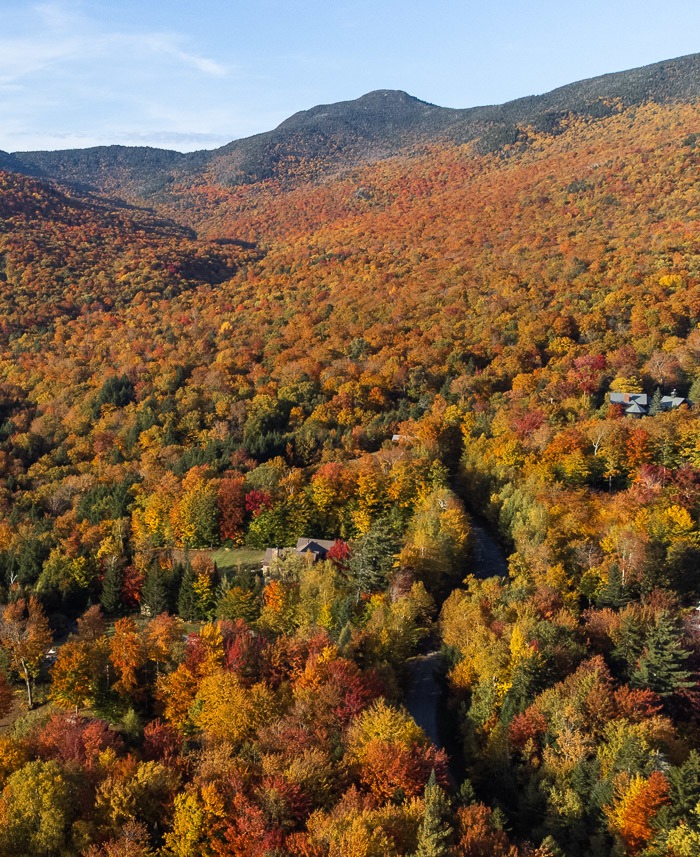 Onwards and upwards to Stowe, this quaint ski town becomes a leaf peeping mecca during the fall. The main street is adorable, with an old church and places to shop and eat, but the real magic is in the ski area.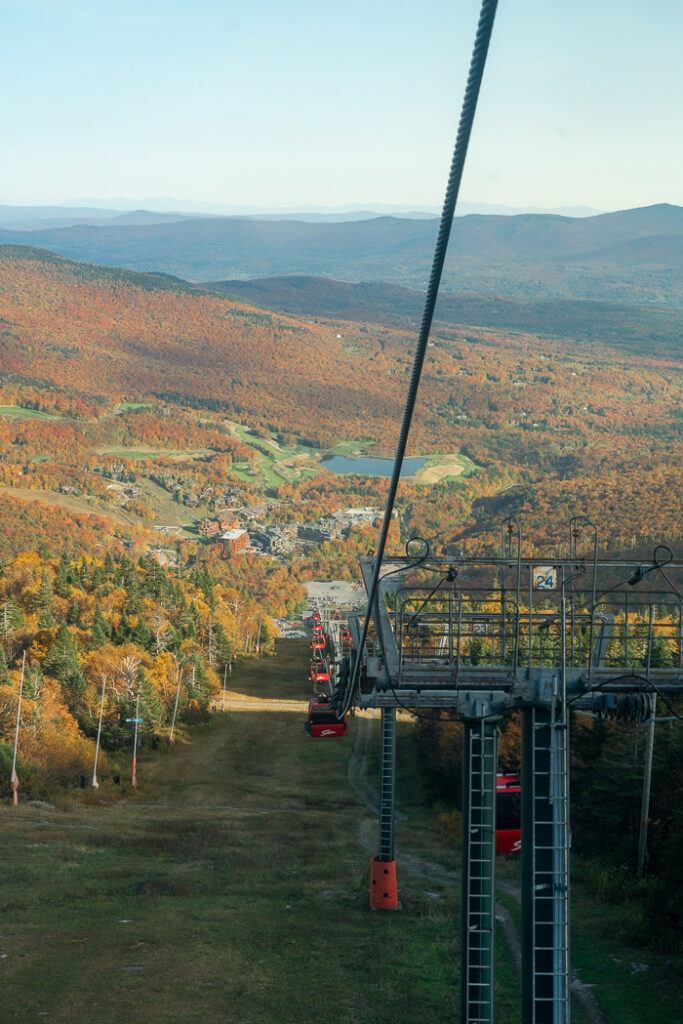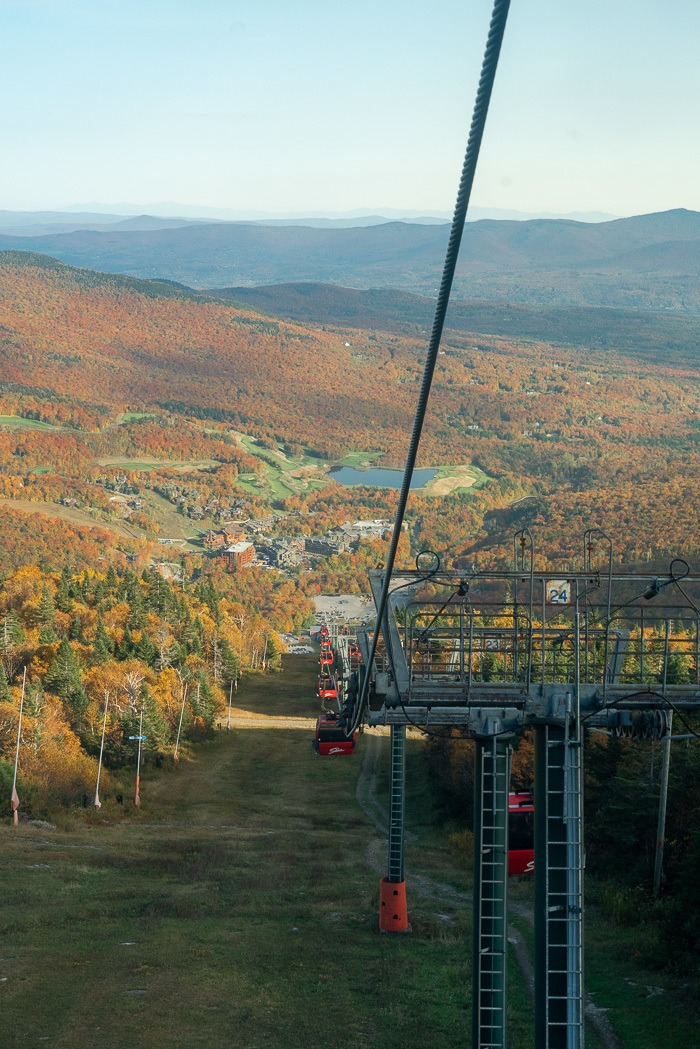 Though a bit pricey at $35 per adult and $24 per child, the gondola is a great way to get an overview of the foliage without having to hike the mountain on foot. If you want to be able to get out and enjoy the scenery up top, be sure to get there well before the last ride at 4:15, which is only an up and back without being able to exit the gondola. We didn't make it on time to get out and walk around up top, but the ride was still gorgeous nonetheless. Check out current hours of operation here.
A word to the wise: This area is mega popular with leaf peepers, so avoid weekends if possible, when traffic and lines can add hours to your day.
Breweries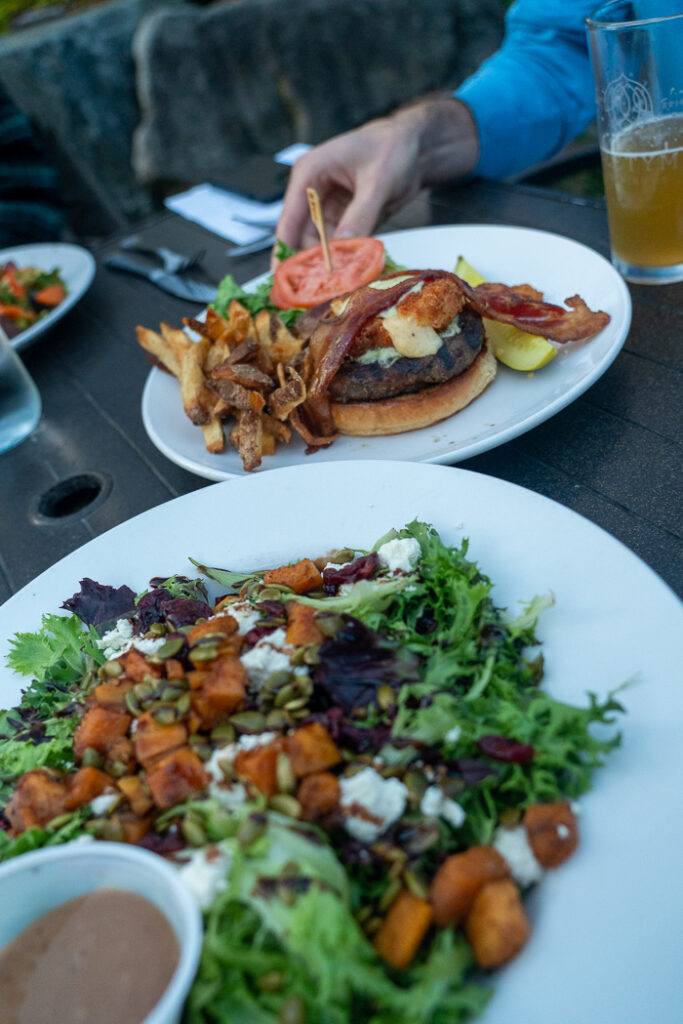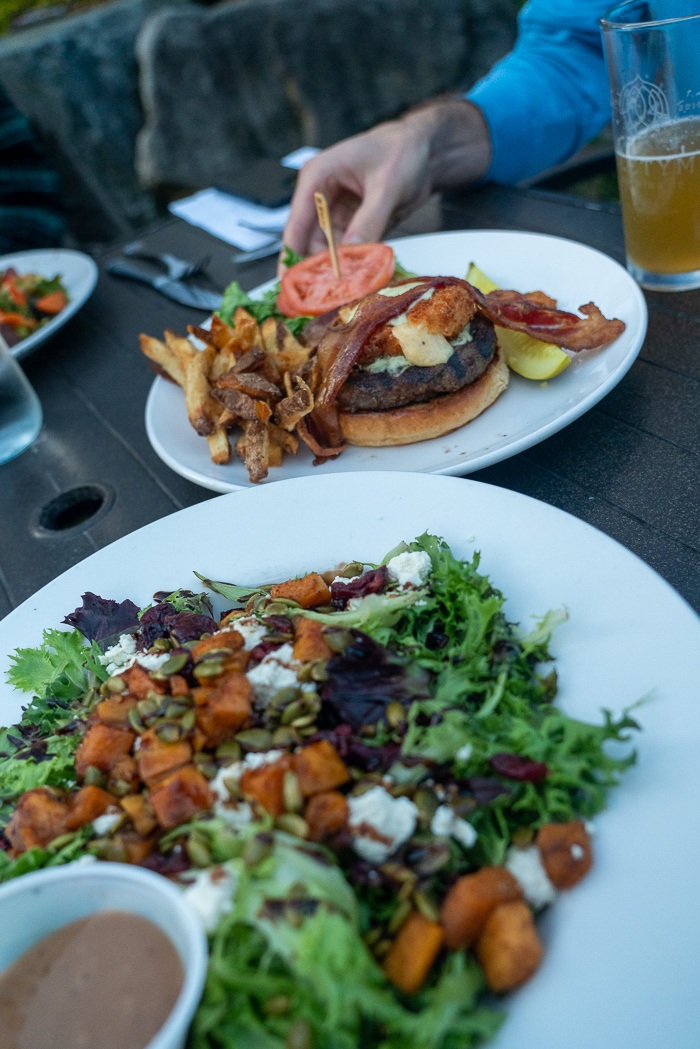 There's something about nature-loving parts of the US and an abundance of breweries that seem to go hand in hand (I'm looking at you, Northern California, Oregon, Colorado, Raleigh). The Burlington area is no different, with craft beers and ciders galore.
Though I'm not a drinker, I still love the breweries for the ambiance and especially the food. We visited Idletyme in Stowe and the burger and seasonal salad were both delicious, as were the donut holes for dessert!
If you're looking to hit several of the best breweries, for both enjoyment and safety's sake, I recommend doing a tasting tour with round-trip transportation, food and beer pairings, and VIP behind-the-scenes looks at some of the best breweries in town. Book it here.
Burlington's Church Street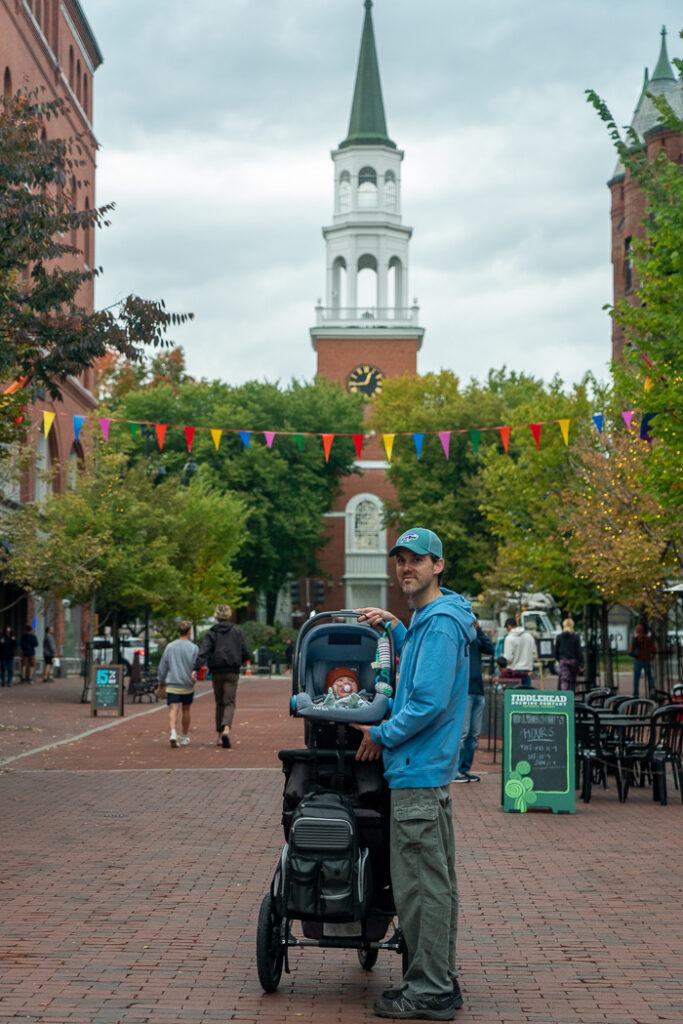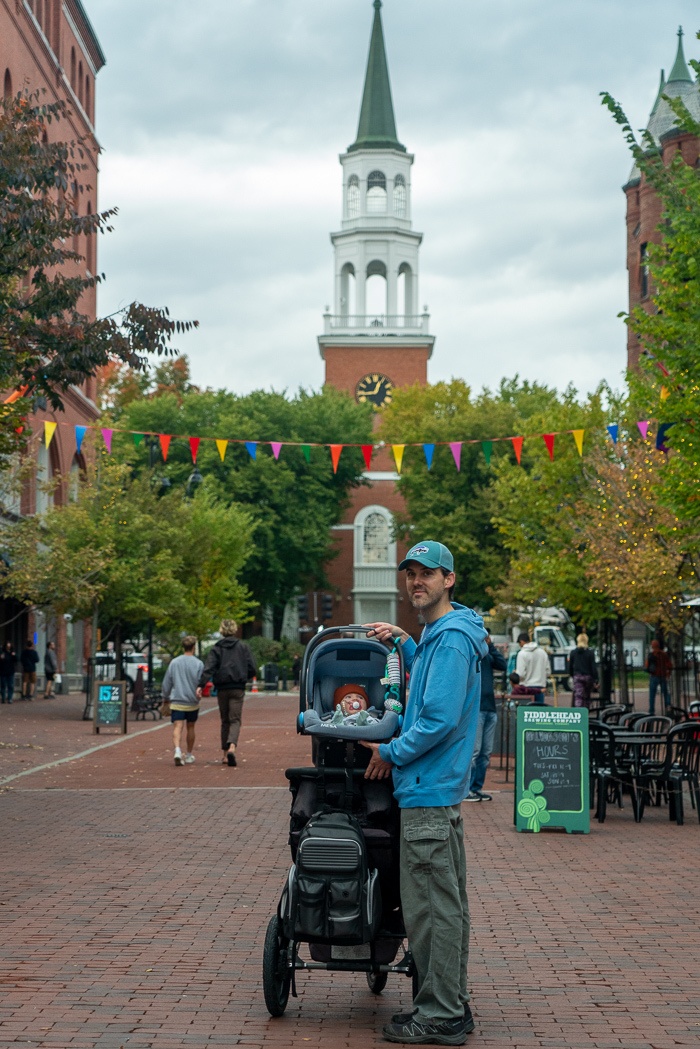 It wasn't until walking Church Street in downtown Burlington that I got a real feel for the quirky Vermont vibe. You'll get a mix of local shops selling everything from outdoor gear, 'keep Vermont weird' shirts and shout outs to the state's beloved Bernie, to restaurants and coffee shops sourcing local ingredients. The cider at the Muddy Waters coffee shop was delicious, as was the food at the mom-owned Tomgirl Kitchen.
Burlington and Vermont in general place a heavy emphasis on shopping and eating small and local, respecting the environment with renewable energy (just check out the solar field at Ben & Jerry's!), and of course real maple syrup. It reminded me a lot of their neighbor to the north.
You'll find plenty of metered parking around town, including paid lots near the waterfront.
Burlington Waterfront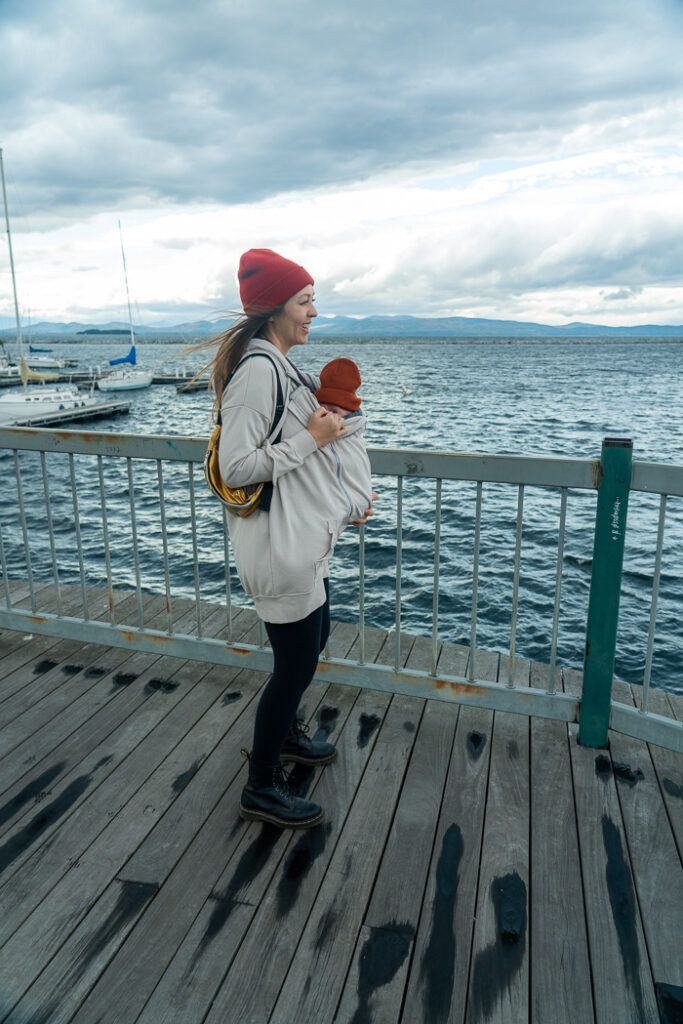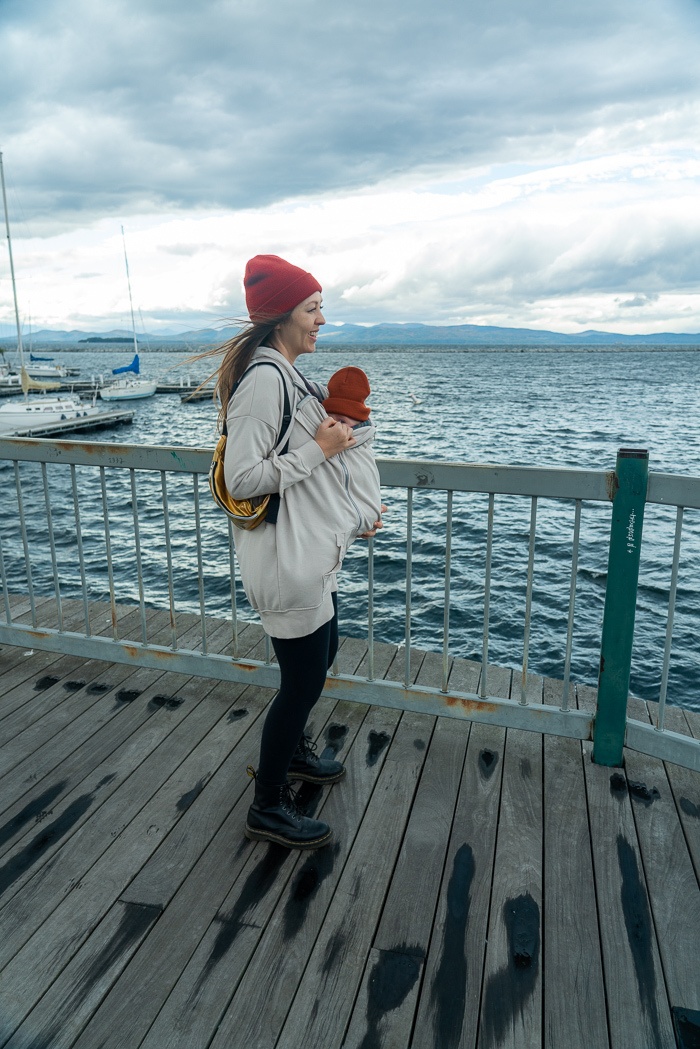 Burlington's waterfront is a lovely walk, at least on a less blustery day than we went, that offers beautiful views of New York's Adirondacks. You can also take a ferry across Lake Champlain to get to the New York side, or just to enjoy the ride. There's also a children's science museum right on the waterfront if you're traveling with kids. This is an easy walk from Church Street.
Camel's Hump Hikes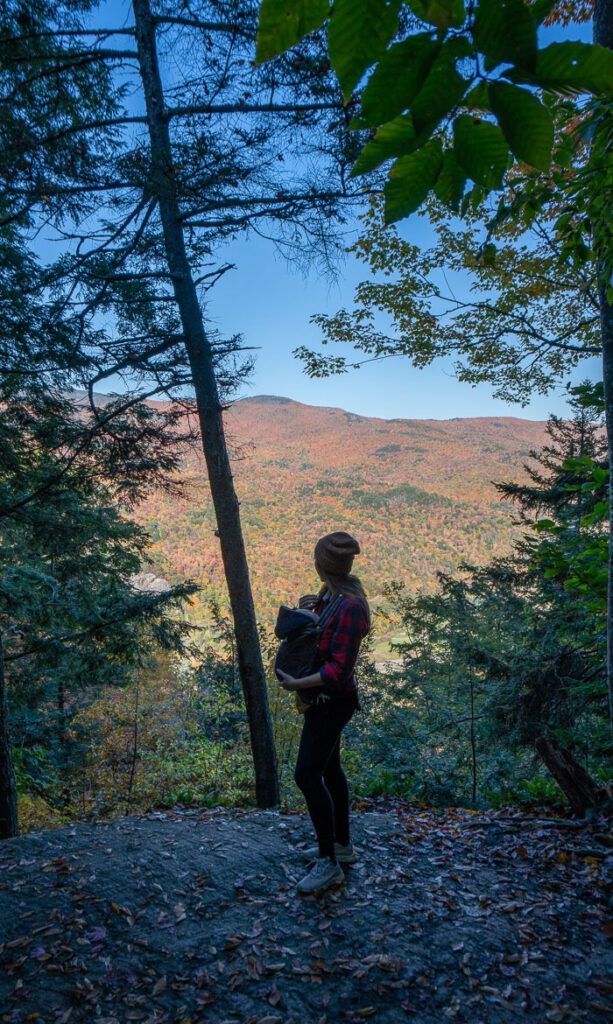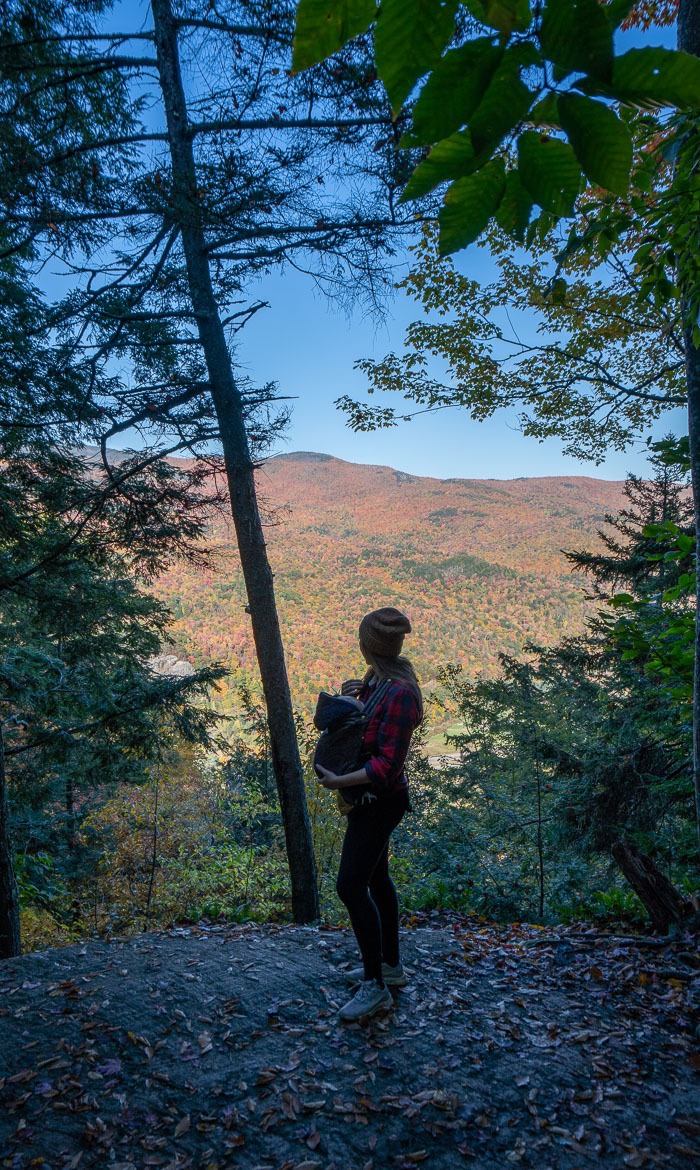 Camel's Hump is one of the best areas, apart from Stowe and Mount Mansfield, for leaf peeping. Just the drive around the area is stunning, but I recommend you get out and do some walking, too.
Normally I'd love to have hiked all the way to the top of Camel's Hump. However, given we were traveling with our not-quite-three-month-old, I needed to take it easy for our first ever hike as a family (and my first postpartum) so we went partway on the trail. The view pictured above is Duxbury window, a 3.2-mile out and back that gave us the perfect opportunity to walk amongst the foliage and get a nice view.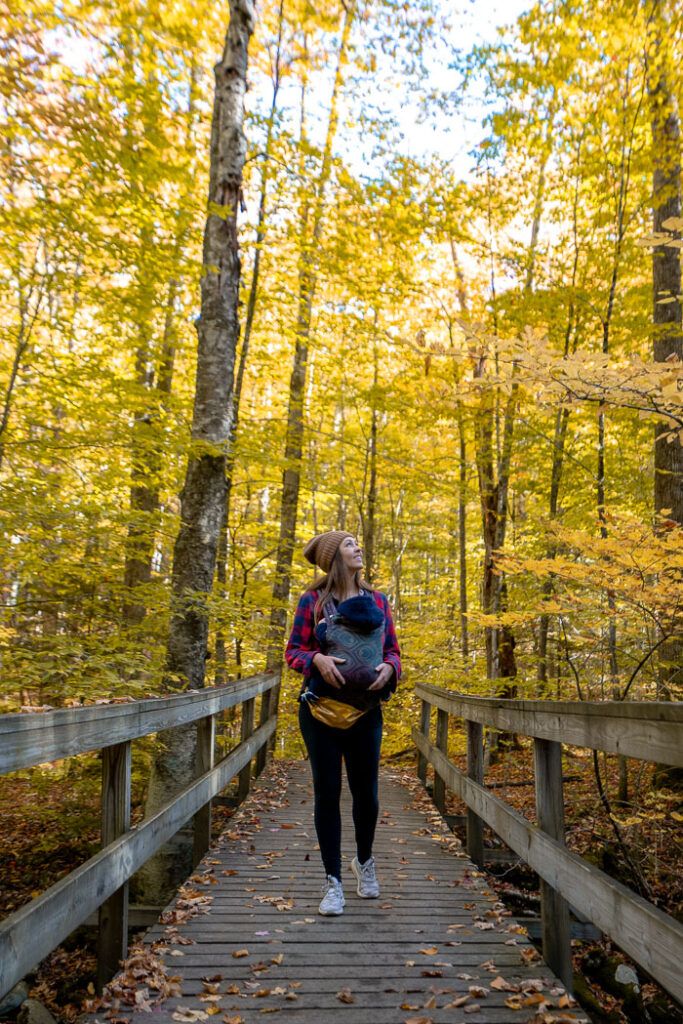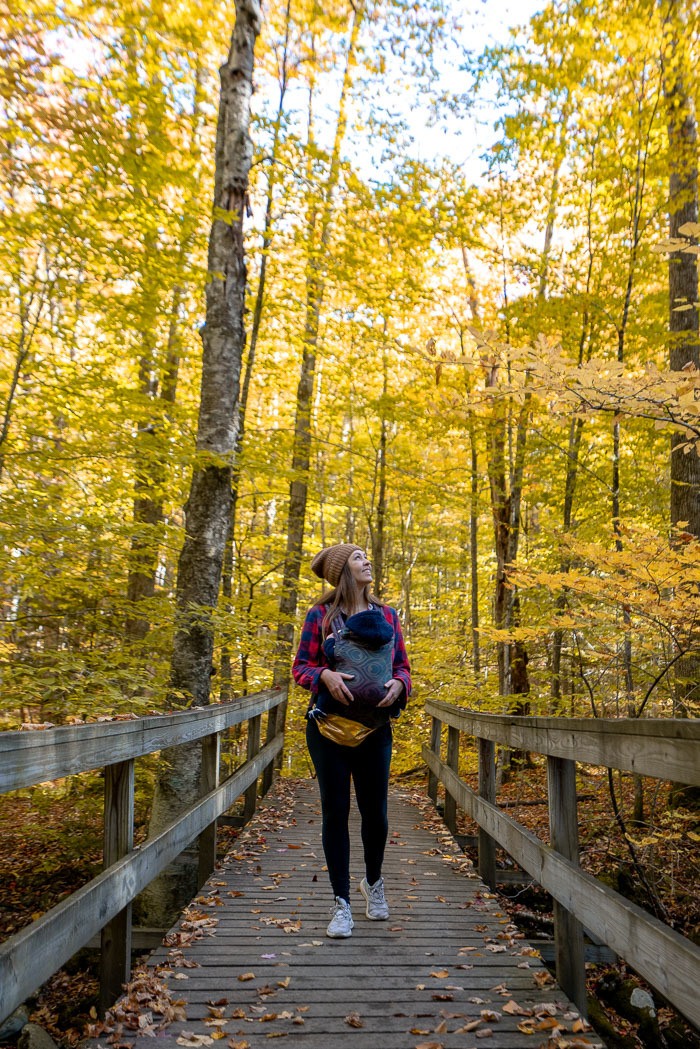 The Camel's Hump View Trail is another easy one in the area at only about a mile in length. However if you can manage it, the Camel's Hump Trail all the way to the top at 6 miles and 2600 feet in elevation gain will give you the best and most sweeping views.
Appalachian Gap Trail Head View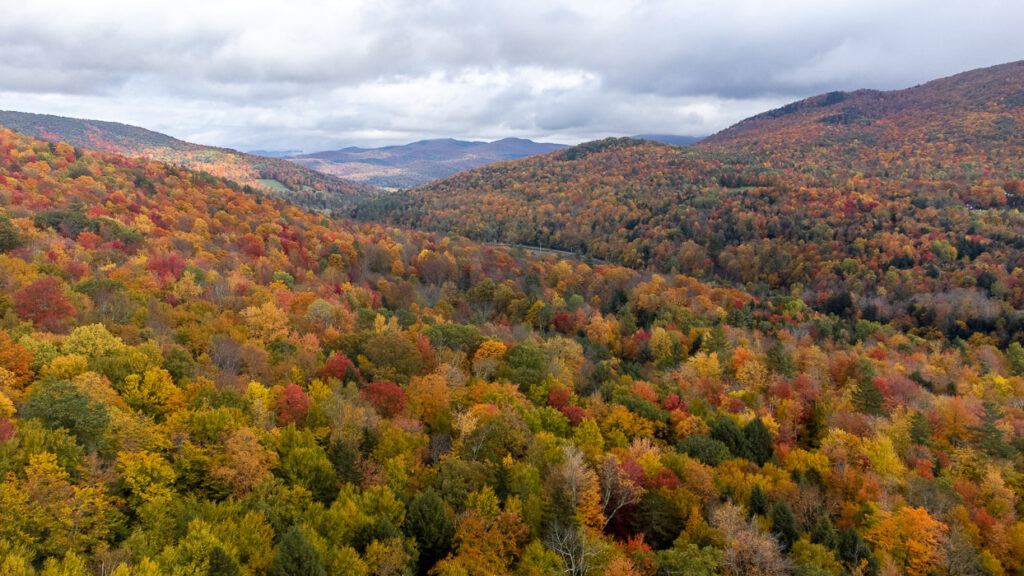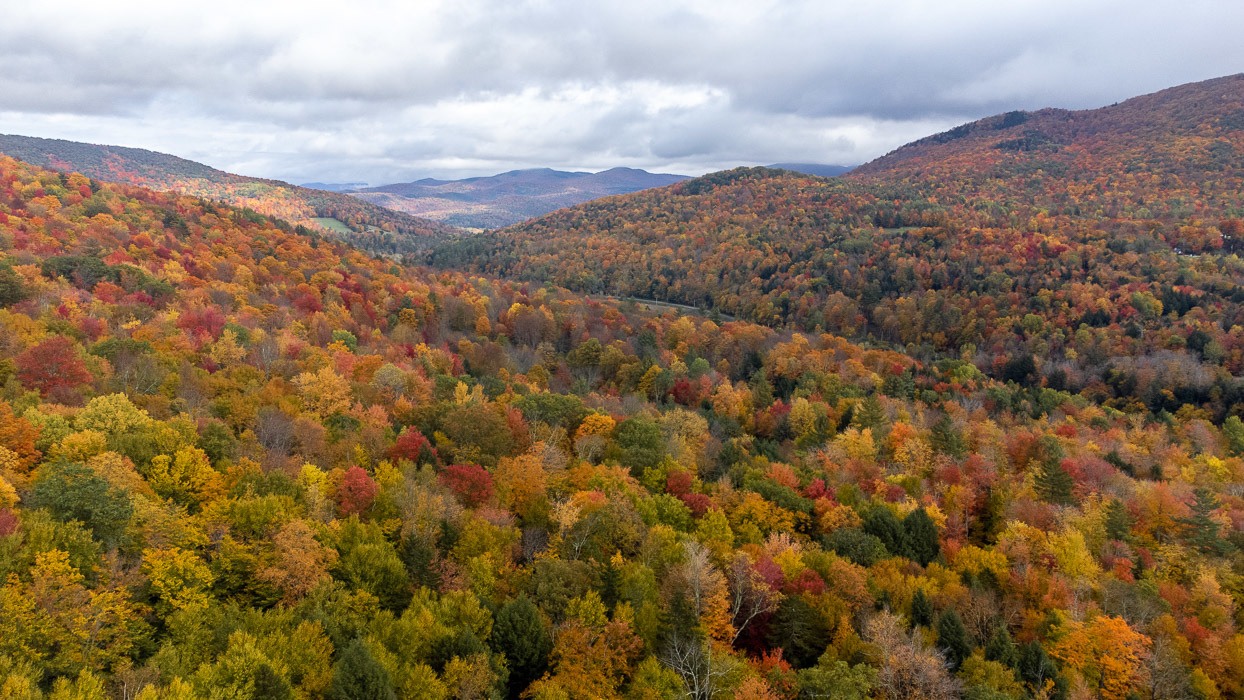 Though not a typically-known driving route, we created our own stunning leaf peeping scenic drive heading south from Burlington through Hinesburg and east to Waitsfield, circling back up through Richmond to Burlington.
The entire drive was full of 'wow' moments, but my favorite was the view from the Appalachian Gap.
This roadside pull off can either be a quick pit stop on your way to Waitsfield, or an opportunity to get out and walk amongst the trees. Consider the 11-mile long trail that hits both this viewpoint and Camel's Hump.
Hit Some Sugar Shacks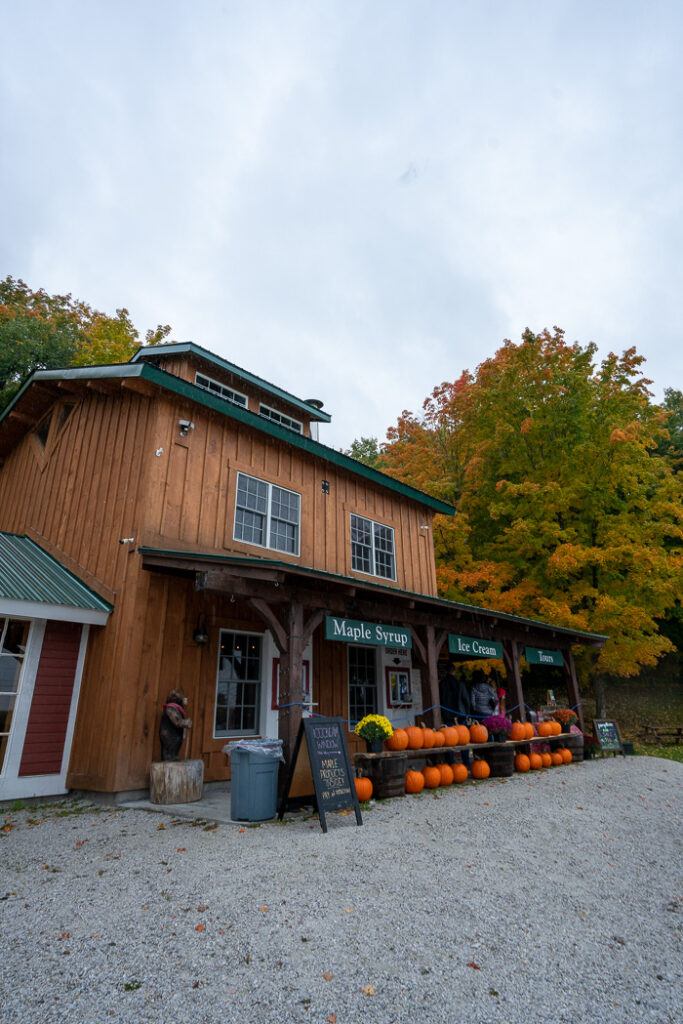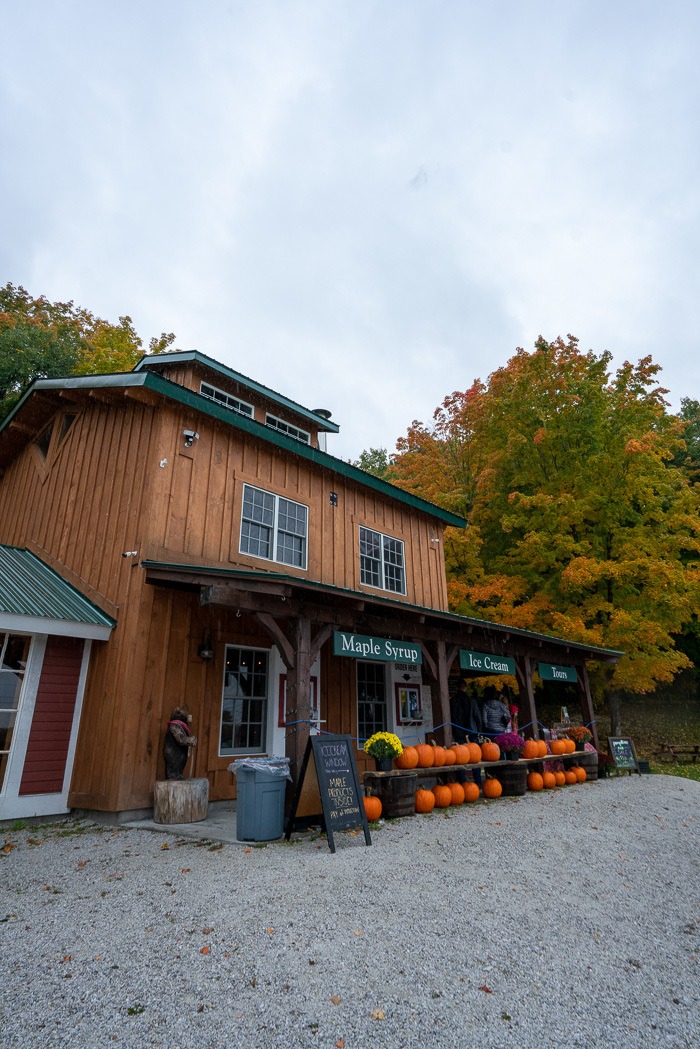 Did you even go to Vermont if you didn't sample some real, authentic maple syrup? During the fall, you'll find sugar houses open to the public, usually on weekends, serving up maple delicacies and opening up their gift shops.
We stopped by Shelburne Sugar works in Hinesburg, which had delicious blueberry and pumpkin cheesecake maple ice cream as well as maple taffy and, of course, gallons of syrup.
Shelburne Farms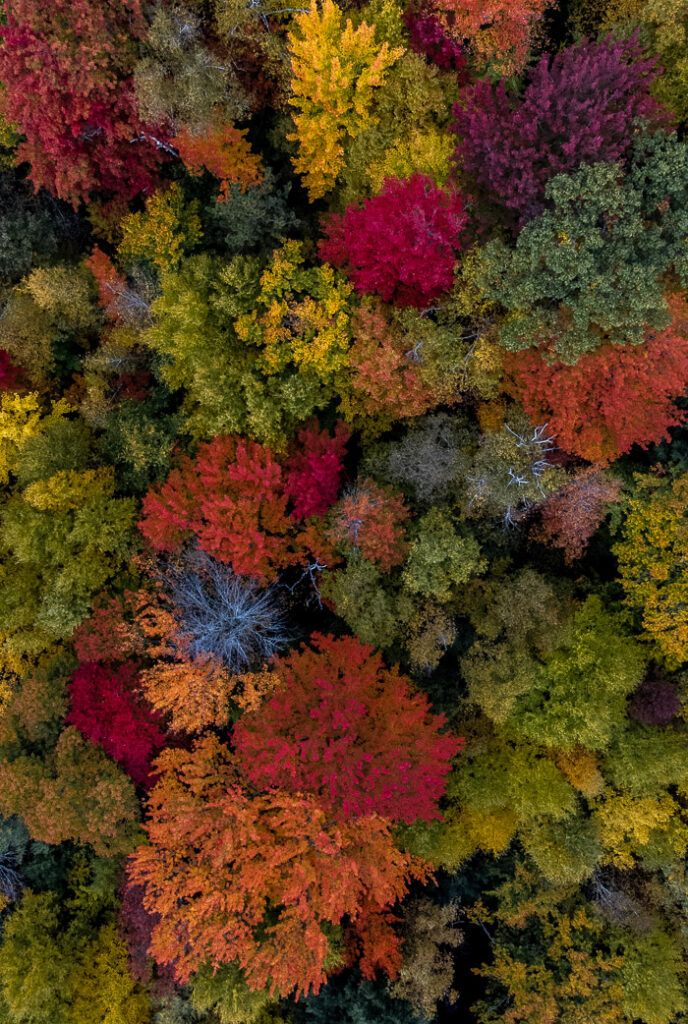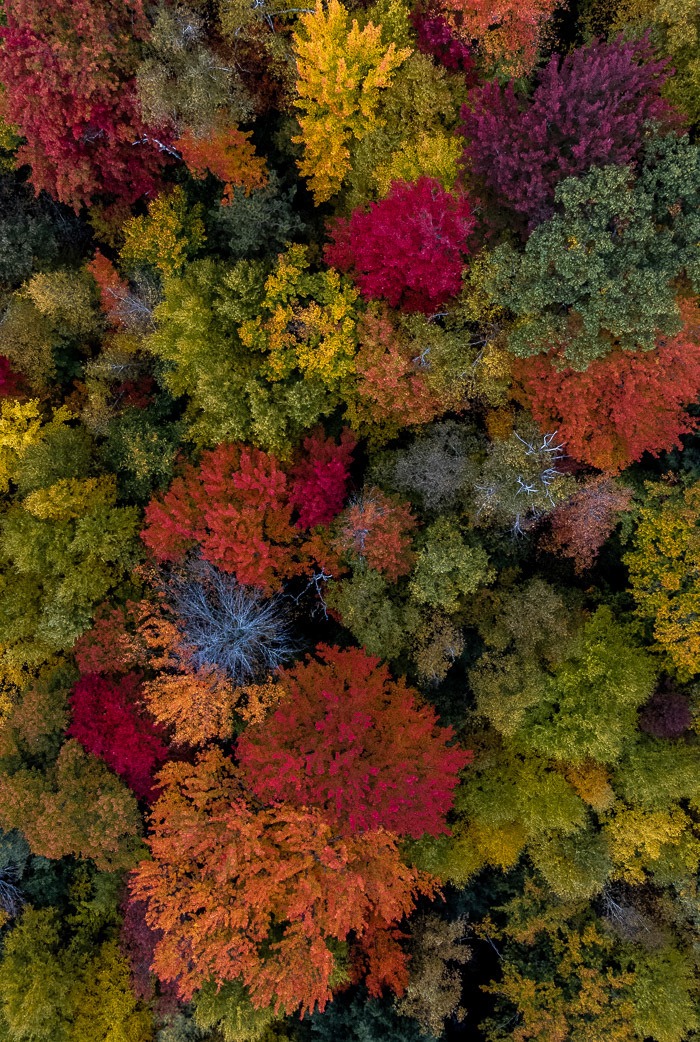 For a lovely walking area in town with a beautiful hotel, farm animals grazing, and some delicious chocolate croissants, Shelburne Farms is a popular stop that's not too far from Burlington. It was raining on the day that we intended to visit, but most Vermont itineraries have this as a do-not-miss.
Pin me for later: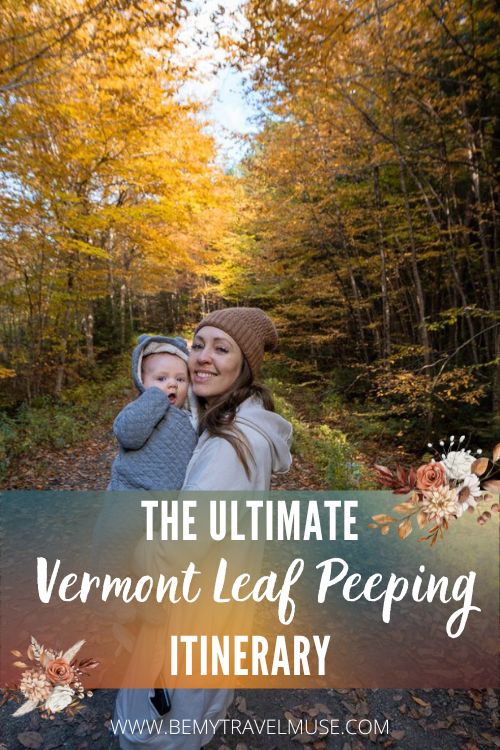 Vermont easily had the most beautiful foliage I've ever seen, and the delicious maple and friendly vibes were the cherry on top. Is leaf peeping on your bucket list?
Click to read more posts about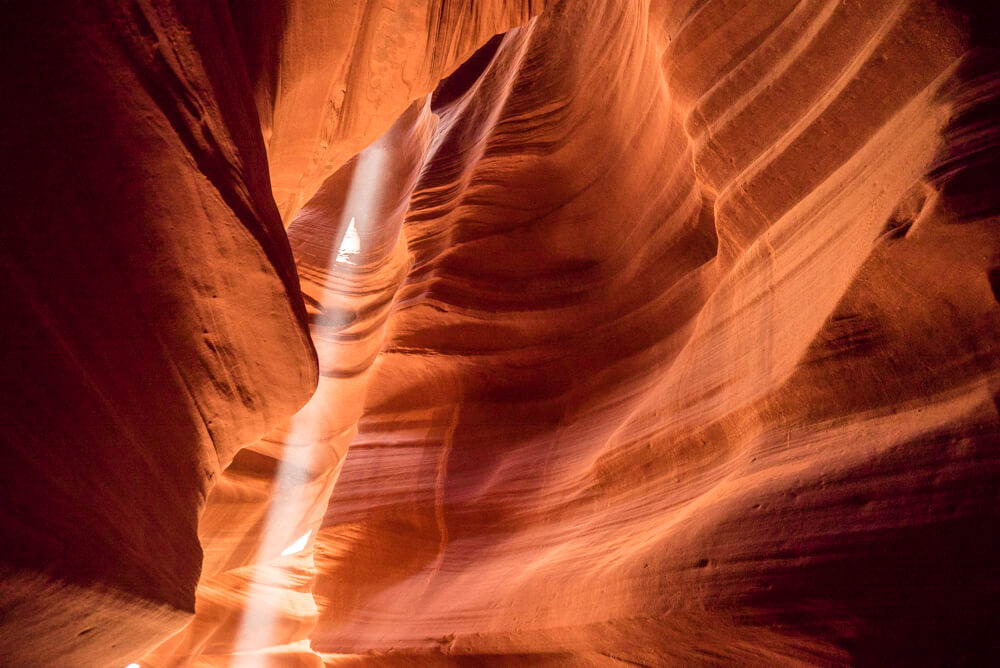 United States